Prominend Muesli
Avoids feed refusal after weaning
Prominend Muesli is an excellent quality dry feed based on high-grade ingredients which meet the nutritional requirements of the newly weaned calf. Some Promined milk is added to the muesli to ensure the same smell and taste perception as Prominend Elite or Activator, which encourages calves to eat. In addition, the high protein quality is largely responsible for promoting digestibility and provides the calves with the enriched nutrition they need, resulting in vital calves with high growth performance. The muesli is fed ad libitum in addition to the milk and after the milk period. The muesli needs to be fed for at least four weeks before switching to another supplementary feed.
Prominend Muesli features
Same smell/tast as Prominend liquid milk
Extruded cereals for best digestion
Complete product includes high quality fibres
Prominend Muesli benefits
Reduces weaning dip
Smooth transition to solid feed
Maximum growth performance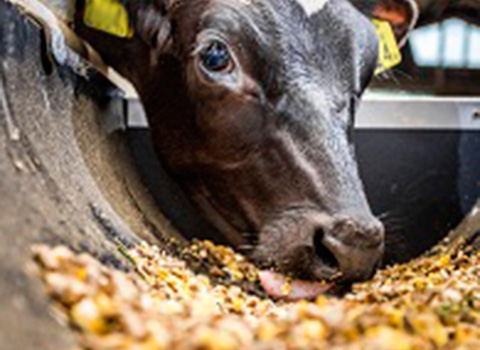 Prominend Concentrate
Steady continuation to boost growth
Prominend Concentrate is a good quality dry feed to continue the Prominend programme due to the same taste as the Prominend liquid products which encourages calves to eat. Prominend Concentrate can be given pre-weaning to guarantee a steady post-weaning feed intake continuation for an efficient growth performance. The concentrate can be given complementary to the home ground roughage
Prominend Concentrate features
Similar taste as Prominend liquid milk
Flacked cereals for good digestion
Complementary to home ground roughage
Prominend Concentrate benefits
Encourages feed intake
High energy intake
Efficient growth performance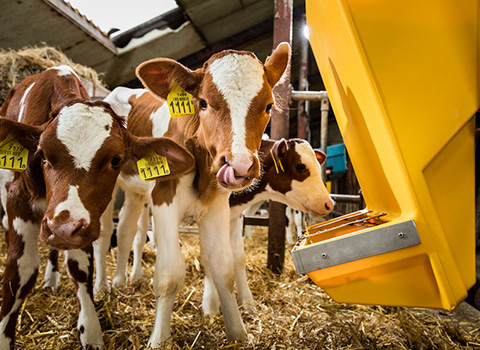 Prominend Elektrolyt
Ideaal bij stress situaties
Prominend Elektrolyte is de ideale drank bij stresssituaties of suboptimale omstandigheden. De combinatie van snel vrijkomende suikers, zouten en vitaminen voorzien in een goede elektrolyten huishouding van het kalf. Verstrekking in water van minimaal 30 graden tussen de melkvoedingen door. Prominend Elektrolyte is smakelijk, goed oplosbaar en lang stabiel in oplossing.
Kenmerken
Zeer goed oplosbaar
Zeer smakelijk
Voordelen
Voorkomt uitdroging
Energie boost
Prominend Colostrum
Bij biest tekorten
Wanneer de hoeveelheid biest ontoereikend of van te lage kwaliteit is biedt Prominend Colostrum de uitkomst. Het is een ziektevrije ingedroogde koebiest met gegarandeerde kwaliteit verrijkt met ei-antistoffen. Prominend Colostrum kan de Brix-waarde aanzienlijk verhogen en ondersteund de weerstand van het pasgeboren kalf. Het dient opgelost te worden in warme biestmelk of warm water
Kenmerken
Garandeert hoog aandeel immunoglobulines
Vrij van besmettelijke ziekten
Voordelen
Verbetert biestkwaliteit
Aanvulling bij biest tekorten
Prominend Dieet
Bij verteringsstoornissen
Bij lichte verteringsstoornissen kan Prominend Dieet door de kalvermelk gemengd worden. Het biedt de darmwand bescherming door middel van natuurlijke pectinen. Daarnaast bindt het vocht en voorziet het het kalf met extra energie. Prominend Dieet is het best oplosbaar in water van minimaal 30 graden.
Feed advice
Every farmer has different needs, yet they all share the same goal of increasing output whilst maintaining healthy calves. To guarantee excellent feed intake during the complete rearing period, all Prominend products, whether liquid (Activator and Elite) or dry (Muesli and Concentrate), have the same smell and taste perception to encourage all calves to keep eating gradually, even when the milk period is finished.